Commonwealth Bank head of Australian economics, Gareth Aird, said interest rate hikes meant clearance rates would continue to decline, although he would not make any predictions on how low they would go.
The market was already seeing clearance rates fall quickly in Melbourne, and this was unlikely to change until the Reserve Bank of Australia changed tack.
"There's no way auction clearance rates are going to lift in the short term, they're not going to lift until interest rates stop rising," Aird said.
"It really doesn't matter where you are in the country, interest rates are the same and that will see prices fall in all capitals."
Aird has predicted an 18 per cent fall in house prices peak to trough in Melbourne, by mid-2023, with ANZ forecasting a 15 per cent drop and AMP Capital expecting prices to fall by as much as 20 per cent.
"I think generally they [clearance rates] will hit a floor. A lot of people who are selling will see the market is falling and accept a price they may not have otherwise to get the job done," he said.
Auctioneers and agents say they have to work much harder to get a sale across the line.
Homes that once might have sold under the hammer are now passing in and selling afterwards as buyers' fear of missing out shifts to a fear of overpaying.
Barry Plant Melbourne executive director Mike McCarthy said the market was adjusting to the new clearance rates, with vendors now realizing they could not get the same prices as in 2021.
"For many people, especially new buyers, this is the first time they've experienced interest rate rises and it's affecting how much they can borrow," McCarthy said. "Wages are not keeping pace with interest rate rises so it's restricting the capacity in the first-home buyer end of the market, especially those who are stretching to get there."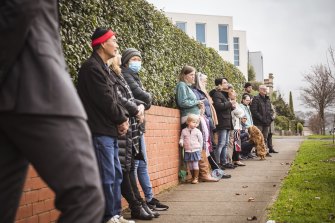 The rate rises were not affecting those at the higher end of the market, or who had good equity in other properties, he said.
Nelson Alexander Flemington director and auctioneer, Jayson Watts, said buyers were now trying to pick where the bottom of the market would be, to get in at the right time.
"It's actually impossible to pick," Watts said. "It's changed from a very vibrant market, where people couldn't spend anything on food or travel [because of lockdowns] and housing was the silver bullet that gave something to look forward to, into a balanced market."
The Morning Edition newsletter is our guide to the day's most important and interesting stories, analysis and insights. Sign up here.