With her work in more than 25 private collections, two of her pieces are also headed to The National Gallery of Canada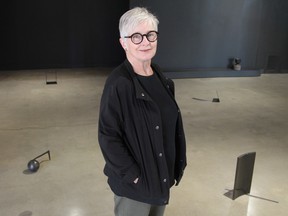 Reviews and recommendations are unbiased and products are independently selected. Postmedia may earn an affiliate commission from purchases made through links on this page.
Article content
Like little geometric animals, 12 steel sculptures sit on the concrete floor, waiting for attention.
Article content
You wander through Peter Robertson Gallery with a certain care while taking in the show, improvising a path that doesn't disturb their placement — although there's nothing fragile about these new, poetic works. They feel like they emerged from below, with something still embedded underneath.
Article content
This is the first way Catherine Burgess' new show, CORPUS, subverts expectations: only one of her 13 ground, welded and polished pieces sits on a typical sculpture plinth — the tiniest one, actually: a steel rod atop a stone ball-like something you'd encounter in the grass on Naoshima art island in Japan. The rest have you looking down, and definitely bowing to meet them.
The second bit of innovation has to do with how the 69-year-old Edmonton artist brought this show together, almost in an act of salvage.
Article content
"In my usual working method, which is to work in a series, the pieces start with almost an identical beginning. And then they go off in the various alterations."
Substantial work
An example of this was her show last year — almost actuaL — down at Southern Alberta Art Gallery in Lethbridge, one of about 30 solo shows she's had across Canada, the US and Great Britain in a 45-year career.
"I felt like doing something, I think, more immediate. I was feeling playful," she says.
"And I was looking at all these bits and pieces that I had sitting on shelves and thinking what a pity it was — they were such good bits — and I hadn't managed to incorporate them into sculpture."
In her Westmount studio, Burgess began to fit together various stray elements — some going back 30 years or more, others pieces of since-disassembled sculptures "cannibalized" after she decided they weren't quite right — into new assemblies welded together.
Article content
"What one thing could I add to this," she asked herself, "that would take it from being just an interesting remnant or object into a complete statement?"
"What would make it enough to feel whole? I've never used that as a sort of guiding principle. It's always been thinking that more objects would fulfill that purpose."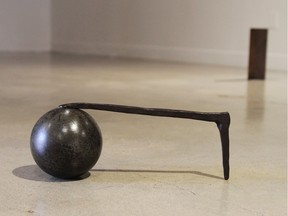 The pieces are, indeed, about as minimal as you can get, and this is their immediate allure: the conversation that instantly comes about in art when you put any two things together, which also creates motion and tension we find in CORPUS.
"I happen to be, maybe in the last five years, more intrigued with how we perceive physicality. Not just what is physicality," she asks, "but when does it begin?
"And I find that when you put two things together that are very different from each other, they make each others' physicality more impactful by being next to each other.
Article content
"It's like a simultaneous contrast that goes on."
As she experimented, she found the material making its own rules, which happened with one of her pieces at the SAAG show, called absence — a long, flat rectangle going up the wall, with a square attached to its base. "It's actually a piece that doesn't have a shadow, which is interesting for a sculpture," the artist explains. "But it seems that putting that one little square plate at the end of that 100-lb. block of steel made it complete.
"I didn't want anything more."
It was the same thing for every single piece in the new exhibition.
"Whenever I tried to add a third element," says Burgess, "they just died.
"And that's why I called them CORPUS," meaning the main body or substance of a thing. "It's like they were right down to the bones. There's no adornment."
Article content
The primeval, geometric shapes are mostly some form of square (or cube) and circle (or sphere), including a familiar-looking ball.
"I just came home one day and there were two shots sitting there, left there by another sculptor, Clay Ellis," Burgess laughs, "knowing I would use them someday. I don't know who else would leave a couple of shot puts in my front yard."
You can see it on the floor in CORPUS XIII, with a steel spike attached, indeed visually alive.
You might, incidentally, be familiar with two of Burgess' large-form public artworks: the tall, double-helix Return, just east of Union Bank Inn on Jasper Avenue, and The Big Rock, her collaborative sculpture with Sandra Bromley on Rice Howard Way: 62 tons of granite with a living pine tree up top.
Article content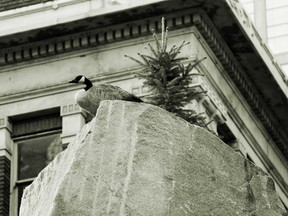 Art begets life
She loves the fact Canada Geese nest there every year, which clearly wasn't in the original pitch.
"People are running around worrying about the little ones falling to their death," says Burgess. "But the chicks have always managed to flutter down and land alive," she notes, usually around May 17.
"But what happens afterwards is even more intriguing, because the street kids on their skateboards have led them across Jasper Avenue, on their way to the river." Directly past her sculpture Return, in fact.
"This little file of geese, and the babies go by. I think it's kind of a wonderful thing."
Besides the public art, Burgess' work is also in more than 25 private collections, including the acquisition this week of two of her pieces by The National Gallery of Canada.
Article content
"It's a big deal," she says with a big smile.
Back to CORPUS, one of the last innovations to note is the way Burgess has created false shadows for a few of the pieces, made out of steel.
"In the catalog for my last show, the acting director described how I use nothingness as a material to be sculpted," she says.
"The 'shadows' work in a similar way. I use somethingness," she giggles, "to be like nothingness.
"There's interplay between what is illusory and what is physical.
"And being aware of those things is what makes us experience them with our physical selves," she adds, meaning instinctively, "more than with our intellectual selves."
Edmonton accountant's zany zine catalog of 'things not normally in museums' draws laughs

Explore 30-years of artwork from the Edmonton sculptor at The [email protected]

The Ripple Effect: Water feature a highlight of new installation by Steve Driscoll
@fisheyefoto
PREVIEW
CORPUS by Catherine Burgess
Where Peter Robertson Gallery, 12323 104 Ave.
When Artist-in-attendance opening 7-9 pm Thursday, show runs through Oct. 8
Admission No charge