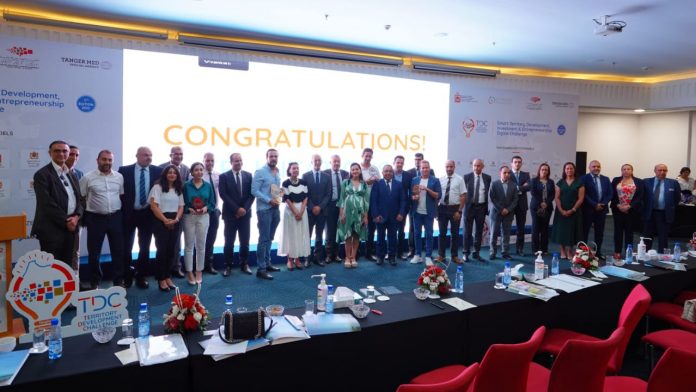 Friday 29 July 2022 in Tangier, the first edition of the international innovation competition, TDC 2022, organized by the Regional Investment Center of the Tanger-Tétouan-Al Hoceima Region CRI TTA, in partnership with the APDN and the Tanger Foundation Med, sous l'égide de la Wilaya, a été clôturée, en présence de plus de 150 personnes et 400 Spectateurs online, par l'annonce de 4 projets gagnants :
the grand prize of 150,000 dhs was won by Mohamed BADADICH for his project of manufacturing professional fours "GEURRYCHEF" economic and ecological HYBRIDE combining two sources of energy classique and ecological;
let 2eh prix, d'une valeur de 100 000 dhs, est accordé à la Coopérative Bio CANNAT represented by AZIZ MAKHLOUF, pour son projet de transformation du cannabis pour un usage médical;
let 3eh prize of an amount of 70 000 dhs, is given to TARIK BOUBKER for the project of cinematographic center in Chefchaouen "بيت كيناما مركز الصمعي البسري والتسويق النظري"
et enfin, un 4eh prix coup de cœur du jury de 50 000 dhs, is awarded to KHAWLA MSSYAH for his project NALIDA POWER qui consiste en la fabrication de mobiliers urbains solaires, innovants et connectés.
This community initiative, first of its kind at the national level, aimed at :
promote l'esprit d'innovation et de l'entrepreneuriat dans la région;
contribute to the economic boost and the strengthening of the regional territorial offer;
offrir un accompaniement personnalisé et communautaire à l'ensemble des porteurs de projets touchant
This participatory and inclusive open innovation event registered the registration of 1,162 candidates and 232 projects from the territories of the TTA region, other regions of Morocco and 20 countries of the 5 continents.
The territorial awareness and onboarding roadshows allowed us to approach thousands of young people and project leaders in all localities in parallel with large digital communication, notably through thematic webinars organized for the promotion of investment opportunities in les sectores phares de la région dans le cadre des challenges.
After the first phases of preselection, 20 finalist projects made their pitch the same day before the grand jury composed of renowned personalities and stakeholders of the regional and national investment ecosystem.
10 finalist projects come to answer the challenges of the first theme that is Territorial Attraction, 4 come to answer the challenges of the second theme of Sustainable Economy and 6 finalist projects try to find solutions to the challenges of the last one thematic relative to Intelligence and Digital Transformation
Territory Development Challenge "TDC" is pour rappel, a collective call for innovation at the national and international level, addressed to all project leaders, employees, laureates and students of grandes écoles, startups, national investors and foreigners…pouvant apporter une solution à une problématique renconte au niveau de la région TTA.
9 challenges have been chosen for this first edition, which concern territorial attractiveness, durable economy and intelligence and digital transformation. The best selected projects will benefit from closer community support and access to different mechanisms and incentives for investment and entrepreneurship offered by the State through the CRI and its ecosystem. Cet accompaniement personnalisé touchera tous les aspects aussi bien technicalo-financier que managerial des projets et garantira leurs arrivés à bon port.