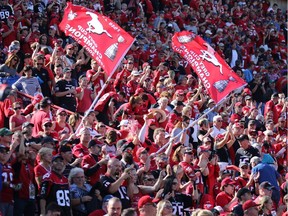 Article content
Jay McNeil sees opportunity.
Article content
The newly hired vice-president of business operations for the Calgary Stampeders is all too aware of the challenges facing the team. They've got a stadium that's well past its best-before date and have seen their season ticket base erode over the past couple of years.
But McNeil was also in the stands at McMahon Stadium as a fan for the Labor Day Classic. He experienced firsthand what it felt like to have more than 30,000 people cheering on the Stamps and have the parking lot packed with tailgaters.
He also knows how many young people are playing football at a grassroots level.
"I was very fortunate I got to sit in the stands for Labor Day and it was a great atmosphere. It was a fun, fun time," McNeil said. "My son and I walked around the parking lot prior to the game and saw everyone tailgating and it was a great atmosphere.
Article content
"It was exactly what you think of when you think of a football game on a beautiful day, whether it's Labor Day Monday or whatever that is. That's the experience you want to get, and we'd love to see that at every game."
McNeil is returning to the Stampeders nearly 15 years after he last laced up his football boots as an offensive lineman for the team.
He was a three-time CFL all-star, a six-time West Division all-star and won two Gray Cups in his 13 years with the team between 1994 and 2007.
McNeil experienced the highs of the late-1990s teams that were regularly drawing more than 30,000 fans to games and the lows of the years under the ownership of Michael Feterik.
So he's intimately aware of what the Stampeders have meant to Calgary, and a big believer in the idea that they remain just as important to the sporting fabric of the city today.
Article content
"There's such a big legacy with this team and this club in the city and it's so engrained in the fabric of society," McNeil said. "A lot of people don't know that, so it's about getting back out there and creating the excitement again."
In his new role, McNeil will be overseeing all aspects of the Stampeders' business operations.
It's a role he's uniquely suited for.
In the years since his retirement, McNeil remained in Calgary and built a strong reputation in the business community. He led sales and business operations for a list of companies that included Trinidad Drilling, Tervita and Secure Energy and was most recently in the role of COO for Cleantek Industries.
All of that experience is obviously useful for his new role, but the CFL is not your typical business. Fortunately, McNeil was never far from the league.
Article content
"The business of football and specifically the business of CFL football is a little bit different," McNeil said. "Fortunately, I've been incredibly lucky to continue to be a part of the league, I was vice-president of the players association for eight years after I retired and I am still a trustee on the CFL pension board. I do understand the CFL and obviously I've been away for a little while, but I do understand and have a lot of connections with the league and at the players association level, as well."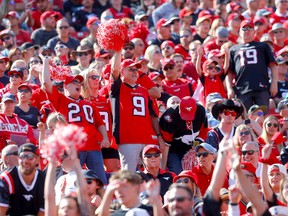 If you were looking for someone to run the Stampeders' business operations, McNeil certainly ticks all the boxes.
It won't be an easy job, though. There are challenges, and the aging McMahon Stadium is right at the top of the list.
Article content
While the Hamilton Tiger-Cats, Winnipeg Blue Bombers and Saskatchewan Roughriders have all moved in to new stadiums in the last decade and the Toronto Argonauts got new digs when they took up residency at BMO Field and the Ottawa Redblacks benefited from major renovations to TD Place Stadium, the Stampeders are still playing in a stadium that was built in 1960.
McMahon Stadium lacks the modern amenities fans have come to expect when they pay to watch a game in person.
It's an issue, and McNeil knows it.
"It is a challenge and we're very aware of it," McNeil said. "Certainly during the recruiting process it was something we discussed and something we do have to deal with. At a very high level, I've heard some of the things the board talked about, and also in the last 24 hours that's probably been the number one thing I've heard is 'When are we going to get a new stadium?'
Article content
"So definitely on everybody's radar and everybody is definitely aware of the challenges it provides and we're going to do our best to overcome them."
There are challenges in every job, though, and while McNeil isn't shying away from them, he also sees a huge opportunity ahead.
There's still a strong fan base in Calgary. There are still young people discovering the game and an older generation that's been rooting for the Stampeders for decades but might not be showing up for games as often these days.
""It's a cliché, but getting back to the grassroots and getting children excited and wanting to be a part of it and coming to the games and as they grow up they become more interested in football in general, but also in the Stampeders. It's about creating those ties," McNeil said. "It's amazing in the last 24 hours how many people have reached out to me and said 'I remember going to games when I was five years old and going with my dad, but I haven't been in 15 years' and why not? Why haven't they been in 15 years? They don't know how to answer that question.
"It's about creating that excitement and getting people excited to come watch the games. It has not been for a lack of a good team or a good product on the field, so we need to create that excitement again."