When voters were asked which of five leaders they would most like to have a coffee or a beer with, Anglade and St-Pierre Plamondon finished last.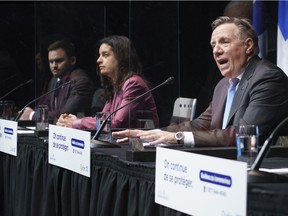 Article content
In the coming provincial election campaign, both the Quebec Liberals and the Parti Québécois — the two parties that dominated and polarized provincial politics for 50 years — will be fighting for their political relevance. The election of the Coalition Avenir Québec in 2018 ended a political era. After October, it's entirely possible that the Liberals and PQ could be relegated to third-, fourth-, or fifth-party status in the National Assembly, or even worse.
Article content
Liberal Leader Dominique Anglade is highly qualified, but has had trouble connecting with voters on either side of the linguistic divide. Since she became leader, the party has veered left into crowded political territory instead of reaffirming the Liberals as a centrist party: federalist, with strong economic credentials. PQ Leader Paul St-Pierre Plamondon would be an asset to any party, but many traditional PQ voters now seem more comfortable with the CAQ brand of nationalism.
Campaigns are an opportunity to showcase party leaders. Can these two, running in their first election campaigns as leaders, capture the imagination of the electorate and turn things around?
According to a Léger survey on voter intentions published this week, the CAQ is still polling in the mid-40 percent range, with the Liberals, Québec solidaire and Conservative Party of Quebec in the teens and the PQ at 10 percent. The Canadian Party of Quebec and Bloc Montréal have been gaining momentum with candidate announcements this week, but neither was included in the poll. Had they been, Liberal support would almost certainly have been even lower.
Article content
While the overall results resemble those of other recent surveys, this poll also probed how Quebecers perceive the leaders of the five major parties, and it is those results that are particularly telling. Lee Atwater, a Republican strategist for Ronald Reagan, coined the phrase: "In politics, perception is reality." The part of the poll dealing with voters' perceptions of the leaders should temper any optimism that either the Liberals or the PQ can mount a comeback during the campaign. When voters were asked to choose which leader they would most like to have a coffee or a beer with, Anglade and St-Pierre Plamondon finished last, with only six and four percent, respectively. A similar level of indifference was revealed when voters were asked whose public rallies they might attend, with whom they would want to discuss social or political issues and who they might want as a member of their family. When candidates were ranked on a list of personal qualities like ambition, determination, kindness and even sense of humor, Anglade and St-Pierre Plamondon also fared relatively poorly. In all categories, Premier François Legault leads, with QS Leader Gabriel Nadeau-Dubois a solid second. With the opposition so fractured, and many vote-splitting scenarios, the poll suggests that Nadeau-Dubois is most likely to be leader of the official Opposition after Oct. 3.
Article content
As superficial as some polling questions may seem, the data on perception offers genuine insight into the overall standings and prospects for any change. While each voter may prioritize a different consideration, how they perceive each leader is a key factor for many. This intel may prompt Liberal and PQ strategists to have image consultants try to change the demeanor of their leaders during the campaign. Unfortunately, though, when leaders twist into pretzels to be someone they are not, it shows, and is quickly remarked upon in the media, which just makes things more awkward. Once perception starts to solidify, it is too late to change it.
Quebec elections are known for surprises, but for the Liberals and PQ, public indifference to their current leaders is a problem, one that makes it extremely difficult to shift momentum.
Robert Libman is an architect and building planning consultant who has served as Equality Party leader and MNA, as mmayor of Côte-St-Luc and as a member of the Montreal executive committee. He was a Conservative candidate in the 2015 federal election. twitter.com/robertlibman
CAQ poised to cruise to a majority as Liberals languish in 2nd place: poll

Tom Mulcair: Legault is vulnerable on sustainability issues, and more