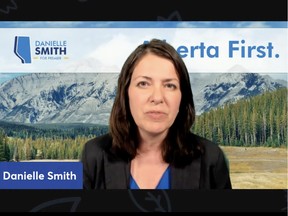 Article content
Most Alberta UCP leadership hopefuls agree the province needs to assert itself against Ottawa, but disagree on how far they would push it.
Article content
A Thursday evening panel featuring seven of the eight candidates who have declared they want to become premier was hosted by the Free Alberta Strategy, which launched its proposals last September, including ideas that date back to the 2001 Firewall letter and the UCP government's Fair Deal panel struck in 2019, like creating a provincial police force and Alberta pension plan.
The strategy calls for Alberta to declare itself a sovereign jurisdiction within Canada that can supersede federal law if it's not in Alberta's interests with an Alberta Sovereignty Act.
Former Wildrose leader Danielle Smith touted an aggressive stance she said would follow Quebec's lead, promising to pass the sovereignty act in the legislature if elected premier this fall.
Article content
However, former community and social services minister Rajan Sawhney, former children's services minister Rebecca Schulz, UCP MLA for Fort McMurray-Lac La Biche Brian Jean, and former finance minister Travis Toews said they're against it.
"If you tell people to ignore laws, it's a slippery slope," Jean said.
Toews reiterated that he's concerned it would create chaos and scare off investors.
UCP MLA for Chestermere-Strathmore Leela Aheer focused on building relationships and collaboration, including with other like-minded provinces.
"If I were to consider my first bill, this would not be it," she said, adding she would instead focus immediately on helping vulnerable Albertans.
Independent MLA for Central Peace-Notley Todd Loewen didn't dismiss the idea, but said the province needs to focus on what it has the power to do first, like collecting income taxes and establishing its own pension plan.
Article content
Many candidates pointed to wins under the UCP government, but said they would have liked to see more progress on the file.
Sawhney said the UCP government delivered on bringing forward an equalization referendum last fall, but didn't make much progress afterward.
"Our government made a lot of noise on federal relations, but we didn't get a lot done. It's time to move forward, "Sawhney said.
Schulz pointed to her track record, getting a $ 3.8 billion child care deal with Ottawa.
"There's a lot more work to be done, but I think a lot of positive work is underway," she said.
Jean, who has promised to push for constitutional negotiations over the equalization program, said Prime Minister Jason Kenney's government made the equalization referendum "a fraud" by not acting on its mandate.
Article content
Jean reiterated that the only way Alberta will "get our fair share of money back" is to get back to the table on constitutional negotiations, and like Schulz, shot down the idea of ​​collecting income tax provincially as unnecessary bureaucracy.
Thursday's panel came after federal Conservative MP for Calgary Nose Hill Michelle Rempel Garner, who had been mulling a bid, announced she would not seek the UCP leadership, citing division and uncertainty within the party's caucus.
"Many of the conversations I've had while exploring this opportunity confirm public reports that a clear division exists," Rempel Garner said in a blog post that also outlined why she would be a strong candidate.
"That is, those who don't want the former leadership team to retain any hold on power and those who are part of the former leadership team and want to fully maintain the status quo. Neither of these positions are tenable. The public has no sympathy for it either. "
Article content
Earlier this week, Rempel Garner had sought and received an exemption to run in the leadership race after her UCP membership had elapsed and she did not meet the requirement of being a party member for six months prior to a July deadline. Rempel Garner said Thursday the caucus discussion over he getting that exemption validated "suspicions about what I'd be in for from caucus if I became leader."
Opposition NDP Leader Rachel Notley said Thursday at a news conference Rempel Garner's statement shows Albertans that the UCP can't be trusted to stay focused on the challenges Albertans are facing.
"Affordability, health care, fixing our education system, these are the things that they should be focused on and her statement includes incredibly revealing descriptions of how that is not what Albertans can count on from the UCP," Notley said.
lijohnson@postmedia.com