West quarterback Isaiah SueSue prepares to enter the game against Taylorsville, Thursday, Sept. 22, 2022. (Sean Walker, KSL.com)
Estimated reading time: 3-4 minutes
TAYLORSVILLE — Not every touchdown scored by West High quarterback Isaiah SueSue is as easy as the one he threw Thursday night against Taylorsville.
Not every touchdown comes on the first play of the game.
They all count the same, though.
SueSue threw for a 49-yard touchdown on the first play of the game, ran for another, and helped the Panthers to their fourth-straight win, 35-0 over the Warriors on Thursday night.
The Panthers (5-2, 4-0 Region 2) are still the team to beat in Region 2, and SueSue is a key reason why.
If the touchdown on the seam route against the cover-three defense just two minutes into the game seemed simple, consider that SueSue and Semi Vailahi, the wide receiver who caught his fifth score from the Panthers' QB1 this year, have played together for a long time — both at West, and with their 7-on-7 squad, Team Pala, last spring.
"We called it, and with luck to us, it went our way," SueSue said. "I knew once Sesi caught it, he was going to do his thing. That's what Sesi does."
SueSue also ran for a touchdown, a 24-yard run with 1:59 left in the first quarter, and the Panthers' defense took care of the rest. Ryder Masina and Taimane Brown each returned long interceptions for a touchdown, and the defense added a safety on a quarterback sack in the third quarter to finish off the shutout.
Between the two spots — the quarterback and the defense — the Panthers are hopeful for a big run in the 6A state playoffs.
"I feel like this team has come together so much since the first game of the season," SueSue said. "I feel like we put in the time and effort. There are still a lot of things to clean up, but seeing the team come together is amazing."
The 6-foot-1, 185-pound junior starter who had 1,087 passing yards with 15 touchdowns and six interceptions before Thursday night, and another 419 rushing yards with six interceptions, has taken the reigns of a team he joined last year as a sophomore and rallied around them as a starter and leader.
"I think he became a better leader by taking control of the team," said West coach Olosaa Solovi, who improved to 26-13 all-time with the Panthers. "This offseason, he worked extremely hard. He's a humble kid, but he takes a lot of competition very personally.
"I haven't seen anyone work harder than he has. He knows he's a guy who has flown under the radar; a lot of people don't talk about him. But in my opinion, I think he's the best quarterback in the state . Between his arm and his legs, he's just a tough matchup."
SueSue is so much of a leader, in fact, that when Taylorsville's squad approached the Panthers about joining together in prayer for an injured Warriors player who had to be taken off the field on a stretcher after an injury on a kickoff return, the Panthers' quarterback was the one nominated to voice the prayer.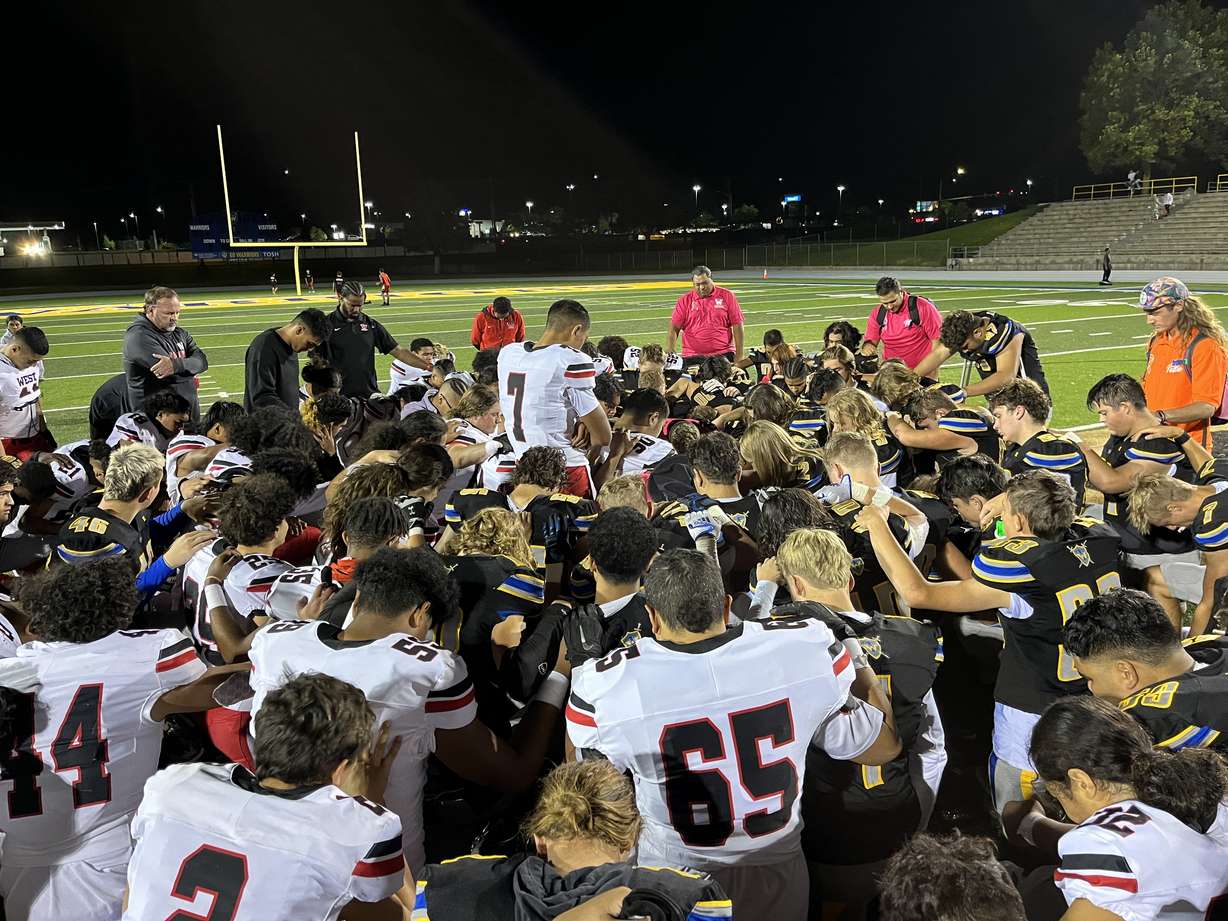 Even without an offer to play college football — SueSue is a Utah fan, but the Utes have been silent in his inbox along with everyone else — the leadership shone through as he asked for divine favor to help his opponents' teammate.
"We don't pray with the opposing team often," SueSue said. "It was sad, but we had to do that for him."
Leadership isn't always something assumed, but earned; and SueSue has earned his role as a leader, his coach said.
"I think everybody understood what he could do, even from last year. It was kind of a coming out party for us," Solovi said. "He's really come into his own as a leader, and taking control of his role. I think his leadership and his humility is what attracts the other players around him."
x
Photos
Most recent High School Sports stories
More stories you may be interested in
.